01 ต.ค. 2564 : เปิดตัว Hioki Digital Multimeter รุ่น DT4261
01 ต.ค. 2564 : เปิดตัว Hioki Digital Multimeter รุ่น DT4261
เปิดตัว Hioki Digital Multimeter รุ่น DT4261
Bluetooth® to Improve Efficiency
The wait is over. Hioki Singapore is pleased to announce the launch of Digital Multimeter DT4261. To celebrate the 75 years of Hioki Digital Multimeters innovation, there will be a special pre-order launch on 15 October 2021, 10 00hrs. In addition to the DT4261, end users who registered their interest will also be given a complimentary Wireless Adapter Z3210 and limited edition DT4261 keychain.
Pre-order sales will take place from 15 October 2021 – 29 October 2021, and is opened to South East Asia countries.
The official launch will take place from 30 October 2021, and customer will only receive the limited edition keychain.
When the Wireless Adapter Z3210 is installed, Bluetooth® wireless communication is enabled. It will boost work efficiency in the field by entering your measured data directly into Excel templates. Furthermore, when using with the free GENNECT Cross mobile app, you can perform simple harmonic analysis.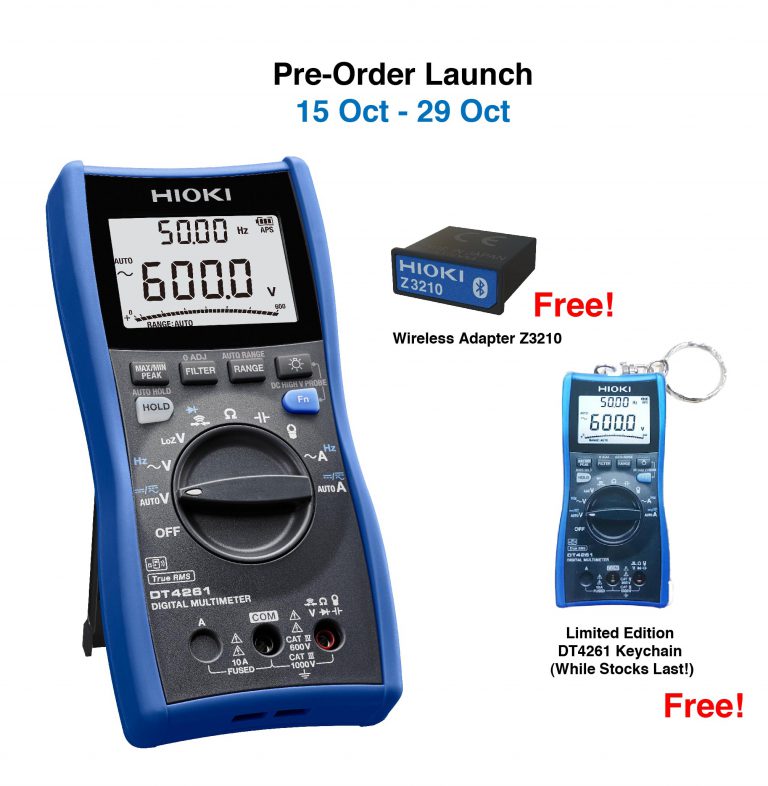 Please find more details about the DT4261 here:
Development Background
At present, Hioki has been expanding our lineup of on-site measuring instruments that support Bluetooth® wireless communication in order to streamline electrical equipment inspection performed by electricians and maintenance technicians. The increase of efficiency cuts the costs of these technicians, but in addition, in certain regions like the home country of Hioki, Japan, the aging population and decline of skilled technicians in the labor force has become an issue. Partly due to this market environment, we at Hioki have focused on improvement of work efficiency using IoT.
Features
1. Wireless Support: Excel Direct Input Function
When the Wireless Adapter Z3210 is installed, Bluetooth® wireless communication is enabled, opening the door to many innovations availed by Bluetooth®. One such innovation is the Excel Direct Input Function. We embedded this function in the Wireless Adapter itself. It enables direct transfer of measurement data to Excel® templates on your smartphone or tablet. This Excel Direct Input function will boost work efficiency by eliminating the bothersome task of entering data after returning from the field.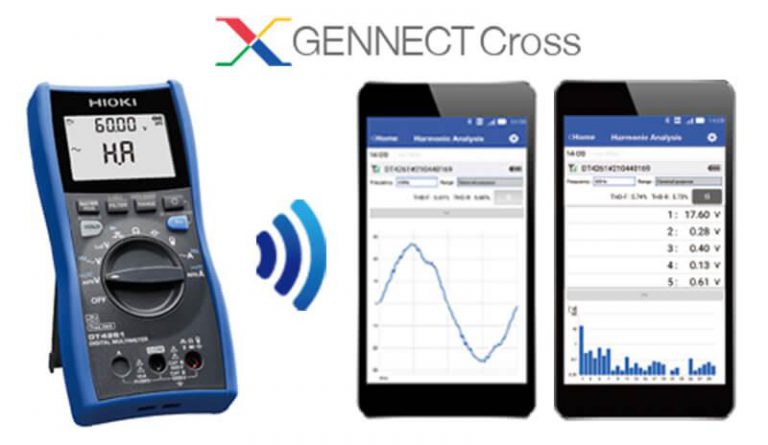 2. Harmonic Measurement
When combined with the free GENNECT Cross mobile app, you can perform simple harmonic analysis. Applications for this function include harmonic measurement of power conditioners for solar systems and problem analysis of power supply systems.
3. Excellent Dust and Water Resistance (compliant with the IP54 international standard)
Highly dust-proof and water-proof suited for rugged use.
4.Auto Fuse Check Function – Prevents Incorrect Current Measurement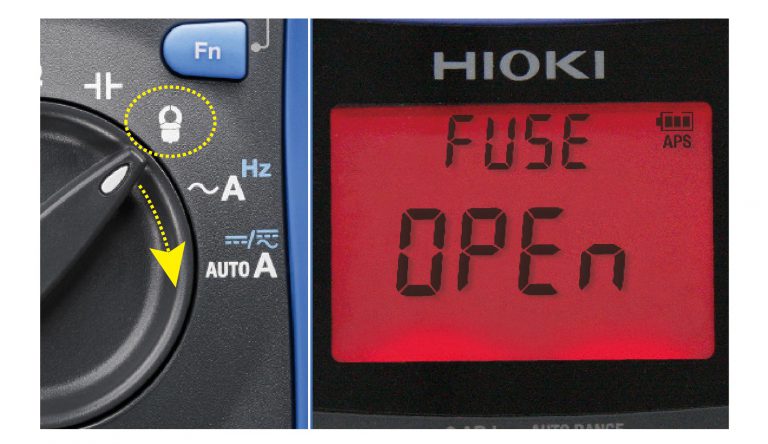 When switching from the clamp function to the current function, a fuse disconnection check is automatically performed. This allows the user to know if the fuse is broken before current measurement, which prevents erroneous measurement.
Ensuring safety by preventing erroneous test lead insertion (terminal shutters)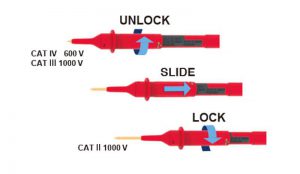 Test Lead L9300 incorporate integrated caps for greater convenience and safety.
6. Ensuring Safety through Mechanical Innovations for the Test Lead
Typically, technicians must be careful not to measure voltage while a test lead is plugged into the current terminal rather than the voltage. Otherwise the fuse to blow, ending in a fuse that needs to be replaced and lost man hours until the replacement. Hioki, however, solved this problem through innovation with the Middle Model Digital Multimeter DT4261. The multimeter's terminal shutters are linked to the instrument's rotary switch in way that blocks access to test lead terminals that aren't being used. This makes it physically impossible to insert test leads into the wrong terminal.
In addition, Hioki's new test lead now incorporates easily adjustable sleeve instead of a cap for greater convenience and safety. The design lets you change the measurement category simply by sliding the test lead's protective finger guard up or down and locking into place. This makes it easier than ever to measure safely, and as an added bonus, you no longer have to worry about losing caps.
7. Supports Measurements up to DC 2000V for PV Solar Systems with P2000 Probe (to be released in December 2021)
The increasing prevalence of large Photovoltaic Systems comes with the increasing need of measuring voltages above DC 1000V. The DT4261 safely supports measurements between ground to DC 2000V (CAT III 2000V, CAT IV 1000V) with the optional DC High Voltage Probe P2000.
P2000 to be released in December 2021.
8.Multifaceted Functionality and Performance for a Variety of Tasks
•  Ability to withstand a 1m height drop onto concrete (drop-proof design)
•  Broad operating temperature range of -25°C to 65°C
•  Automatic detection of DC and AC voltages (AUTO V function)
•  Visual warning of excessive input via red backlight
•  Visual indication of HOLD operation via orange light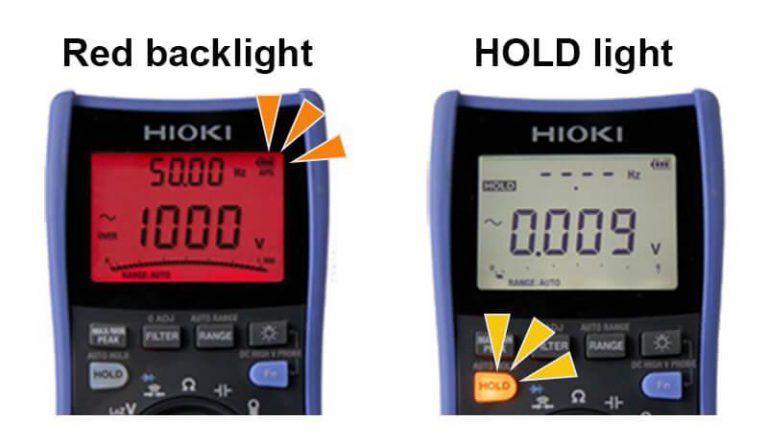 Engineers' NEW Best Multimeter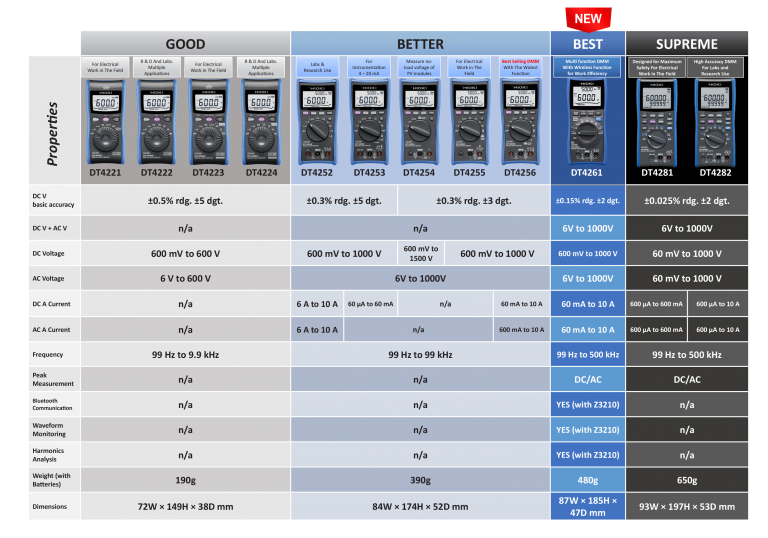 We have reshuffled and curated our list of Digital Multimeters into a chart for your viewing convenience. Up to date, we have a total of 12 Digital Multimeters specially designed to suit your every need.  With the Good, Better, Best, Supreme concept, we hope that this will provide customers a better idea when choosing the right multimeters for their application.
Electrical equipment maintenance, verification and troubleshooting in electrical work
Large Commercial Solar Farms
Lineup
Digital Multimeter DT4261
Digital Multimeter DT4261 Kit (set with Wireless Adapter Z3210)
Wireless Adapter Z3210: accessory